Projects
Knoxout Teams Up with Japanese Streetcar for Greener Transport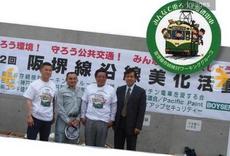 Streetcars were the most popular form of urban transportation in many Asian cities before the Second World War. Even Manila had a tram network that unfortunately was destroyed in the war. But even in cities where it survived, streetcars began to fall on the wayside as cars and other urban mass transit systems grew in popularity.
In Japan, streetcar operations have declined by over two-thirds from their peak in the 1940s, with total track length cut by over 80%. In Sakai, a city of over 800,000 people in the Kansai district of Osaka, the Hankai Tramway operates the only streetcar in Osaka. Even though the company celebrates the 100th anniversary of its founding this year, its existence is threatened as ridership has decreased by 85% in the last 50 years.
The Independent Sakai City Civic Conference, a non-profit organization, pitched in to help keep the trams running. Because Sakai City was one of the few Japanese cities left to operate a tram network, the streetcar was an important symbol of Sakai City. They organized volunteers among the city citizens for a beautification project for the tram stops that included landscaping, planting and painting the stops. Aquatic & Industry Inc., a trading company that exports Filipino products to Japan, contributed Boysen KNOxOUT to the painting effort. Mr. Toshifumi Asada, Managing Director of Aquatic, chose to use KNOxOUT, the first air cleaning paint in the world with CristalActiv photocatalytic technology, not only to beautify the tram stops but also to help
protect streetcar commuters from noxious emissions of cars driving by the tram stops.
Mr. Osami Takeyama, mayor of Sakai City, was among the volunteers who painted one of the tram stops with KNOxOUT together with a group of child volunteers, who found KNOxOUT very safe to use. The KNOxOUT painting of the Hankai Tramway stops was also the first application of the "One Wall One World" advocacy outside of the Philippines. The Hankai Tramway donated its tram stops to paint, Aquatic & Industry Inc. donated the KNOxOUT used for the painting, and several professional painting contractors as well as city volunteers led by Mayor Takeyama donated their time and effort to paint the tram stops. "The need for cleaner air is a universal one that's not confined to the Philippines," said Johnson Ongking, vice president of Pacific Paint
(Boysen) Philippines, Inc.
"Boysen KNOxOUT is the first air cleaning paint in the world with CristalActiv photocatalytic technology, and we're very proud of the fact that it's been chosen for this project here in Japan which aims to sustain a safe and environmentally friendly means of urban transport."
Sakai City, is one of the largest and most important seaports in Japan.